Relocation: cultural surprises that caught the eye of our contributors Karry and Hassine!
Taking on a new job is usually accompanied by a great deal of excitement. But leaving your home country and immigrating to another country for a new job also requires a lot of courage. Especially when the differences to the cultural conditions, the legal requirements and the organization of everyday life could not be greater: Karry, UX Engineer, came to Germany from India and Hassine, Junior PHP Developer, from Tunisia and tell us what they didn't expect.

A review: Relocation at Wawibox
Karry was the first among our contributors to be relocated in 2021 - through her, we learned how valuable cultural diversity can be for our team. In doing so, we kicked off many more relocation processes to build our Product & Engineering team with many talents from all over the world: Today, we work with a diverse team of contributors from Germany, India, Pakistan, Russia, Iran and Tunisia.

Where things were bumpy back then, today we can proudly say that we have built a solid relocation process to support our contributors not only with the entry modalities, but also with their cultural onboarding in Germany. Want to learn more about the relocation process at Wawibox? Check out this article too!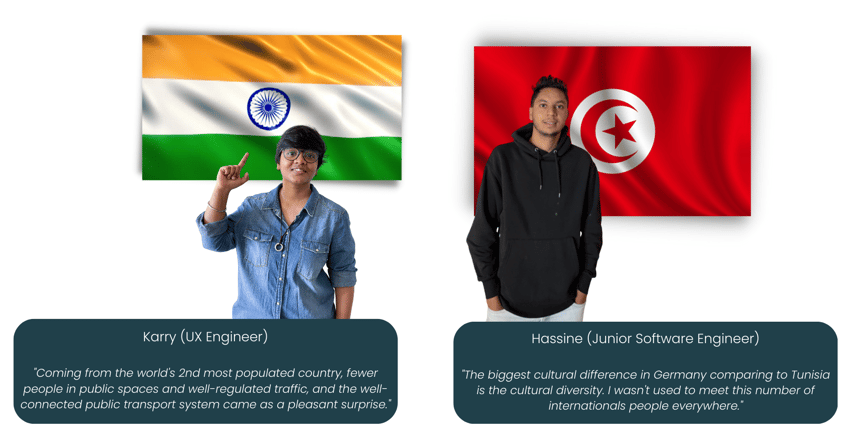 What surprised you most when you arrived in Germany?
Karry: Coming from the world's 2nd most populated country, fewer people in public spaces and well-regulated traffic, and the well-connected public transport system came as a pleasant surprise. Also, the geographical location of Germany gives me a spectacular experience of all four seasons. Unlike my home country, the weather conditions in Germany encourage me to walk and use public transport. It's a relief not to be behind the wheel stuck in traffic for hours before reaching work and home. Being a photographer, I love Romanesque and Gothic architecture. Yet another surprise was the fast trains and the connections across Europe, this gave me so many opportunities to have some great weekend getaways.

Another surprising part of Germany is that only cash and girocard are the two most popular payment methods, in India, one would have zillion ways to pay for shopping or at restaurants.

Lastly, getting things done at public institutions is time-consuming and not straightforward.

Hassine: Actually, Germany is full of surprises, but the most blast one is nature. I thought that I will be in full modern country, but I found myself in a fusion between nature and modernity. This part I loved a lot because it reminded me of my hometown "Beni Khaled" where most of it is nature.

What is the biggest cultural difference between your home country and Germany?

Karry: Food was one of the major cultural differences. India is known for its varied cuisines and a huge variety of dishes for every meal. But it was also quite interesting to try the German Bread and Austrian "Schnitzel" - I tried them for the first time in the Wawibox office, when a colleague and his wife fried "Schnitzel" for the entire Wawibox team. I remember that fondly!
India is also quite colorful - Be it festivals or a simple work party from clothing to decor to food everything is colorful. Especially weddings are a big deal, it's never done as simple as it is done here.

Hassine: The biggest cultural difference in Germany comparing to Tunisia is the cultural diversity. I wasn't used to meet this number of internationals people everywhere. In Tunisia - even if you find some internationals - they stay mostly for tourism reasons and are from Europe or from Arabic countries, but in Germany lot of internationals work & study here. You can hear multiple languages at the same time in streets and that's beautiful because you feel like walking into the world - not in a specific country.


What advice would you give to people who want to immigrate to Germany for work & life?

Hassine: I highly recommend it - just go for it even if you don't speak German! Language is of course helpful, but isn't a big issue here. You can communicate with English almost everywhere. Life in Germany is amazing and easy, transport/healthcare/education are advanced and in general, Germany is a beautiful and diverse country so you will always be surprised of the difference between its cities.

You will find a good work environment here because companies in Germany respect their employees, believe in diversity and encourage for more learning. At Wawibox you can get learning money every year and spent it into educative service (German Language Course for example) - i love it!

The most beautiful thing while working in Germany is that you could have the freedom in your work to suggest new ideas to your team and it will be taken to account. Latest thing, German colleagues are extremely honest, so you will get the right feedback for your work, and therefore you can improve your work in a good shape.

Karry: I would say to the people who would immigrate to Germany, especially from my country, get prepared to be knocked out of the park by the work-life balance. Plan well on how you can use all the time you would get for yourself, maybe play a game, watch a movie or just sit on a garden bench and be lost in nature. Plan your vacations well in advance, guilt-free! Don't be surprised if your boss asks you to take a break and go on vacation or even better suggests places to visit. Yes, it's true, my CEO did that for me!
Be prepared to go back to the age of postal services, most communications are via post. Also, be prepared to learn the language, it will help you a great deal.

Overall, I'm glad I made this decision to move to Germany to follow my passion and to experience another part of the world and its culture. And I am happy to have found one of the friendliest workplaces with an excellent work culture. The warm and hospitable nature of my colleagues and the coolest CEO ever has made me feel at home. I strongly believe "Life starts at the end of your comfort zone."

Thank You Wawibox….You make me happy :)


Do you also dream of a job in Germany? Apply to join our team and let us support you
on your journey to Germany!
We are looking forward to meeting you!